10 TOP TIPS FOR GETTING FIT AT HOME
Try these tips to get fit in your own home:
1. Use social media. While sitting at home, you could be using the power of social media to get some workout ideas. Simply follow some online fitness coaches and influencers on Facebook or Instagram and you will have fresh content delivered direct to your feed each day. Follow me at Kfrancis18 on instagram or Kim Francis-Virtual Studio on Facebook.
2. Invest in some key equipment. While it would be nice to buy a squat rack, chances are you won't have enough room at home. Instead, think about other equipment that can aid your workouts that don't take up much space. ● A step, exercise ball and some mid-weight dumbbells would be a good start as they can add an extra dimension to your home workouts. ● You may also want to invest in some resistance bands or gliders. For yoga a block and a strap are perfect tools.
3. Clean the house. Very few of us like doing the housework, but doing those chores are a good way of getting fit. Yes, it counts as a workout!
4. Use your surroundings. The furniture around your house, even your walls and surfaces, can be used to create interesting exercises and workouts. ● For example, you could use a chair to perform tricep dips, or perhaps even step ups. ● Use your imagination and you may surprise yourself with the possibilities.
5. Use those empty gaps of time to exercise. Waiting for the kettle to boil, or perhaps during 2 TV commercials, could be the perfect time to do a few exercises. ● These short 30-second workouts can add up to something significant by the end of the day.
6. Try bodyweight exercises. Although earlier I mentioned buying certain pieces of equipment, you don't really need them if you prefer bodyweight exercises. From squats, to push-ups, to burpees, the possibilities are endless.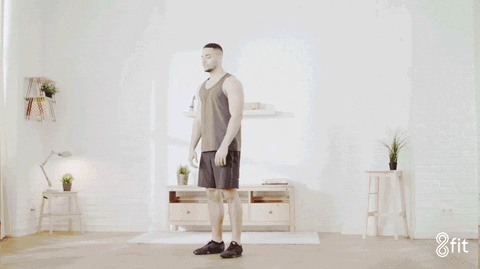 7. Load up that fitness DVD. At the back of your cupboard you may find an old celebrity fitness DVD. Anyone remember Buns of Steel? Perhaps it's time to give it another shot?
8. Browse YouTube. If you're struggling for workout ideas or motivation, take a moment or two to browse YouTube. There are hundreds, perhaps thousands, of personal trainers and fitness experts available with numerous routines you can follow. Of course you could always check out my Video on Demand Library too...wink wink nudge nudge!!
9. Keep workouts short. You don't need to work out for hours to see results. Even 20-30 minutes a day can produce dramatic benefits. ● HIIT (High-Intensity Interval Training) is a good idea as you are working out to set intervals, where you will be giving 100% followed by a short break. My tabata transformation class on Tuesdays at 10:00am is just this kind of workout.
10. Practice yoga. Yoga is good for both your mind and body, so it's worth adding it to your home workout routine. At kimfrancis.online we have 2 yoga classes every week. Tuesdays at 11:00am and Sundays at 10:00am.
As you can see, it's certainly possible to get fit in the comfort of your own home. In fact, the convenience of working out from home has been something that has been a pleasant surprise for me. No travel time to build in. No packing up gym bags. No forgetting your gym shoes at home or in my case yoga mat.
If you haven't already tried an online class I would love for you to join us. Take advantage of your first class or try a whole week free at www.kimfrancis.online